Who's your favorite character from a Tyler Perry production?
Welcome to the Tyler Perry Works Wiki
This consists of characters in Tyler Perry Works. Including his most famous 5 characters, Madea, Joe, Cora, Mr. Brown, and Brian. And new main characters, Aunt Bam, Floyd, and Hattie.
Works
Tyler Perry started out with a play he wrote called "I Know I've Been Changed. Based on child abuse that he suffered from his childhood. This play got rave reveiws because of the storyline. He starred as Mr. Joe which was revealed in later works to be the brother of his most famous character, Mable Simmons.
But Perry never gave up cause in late 1999 he started to tour "I Can Do Bad All By Myself". The play was about Vianne, a recently divorced woman who lives with her 68 year old grandmother, Mable Simmons. When arguments start to stir Madea has to handle it. Through out the years Tyler Perry has written over 12 plays including movies like, Diary of a Mad Black Woman, Why Did I Get Married?. Including his two famous tv shows, House of Payne and Meet the Browns. He even has his own company, Tyler Perry Studios and higher rated movie company, 34th Street Films.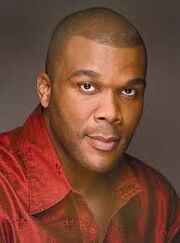 He is now working on his new tv series, For Better or Worse based on the Why Did I Get Married? films and play. Starring Tasha Smith, Michael Jai White, Kent Faulcon, Crystle Stewart, Jason Olive, Cocoa Brown, Bobb'e J. Thompson, Brad James, and Kiki Haynes .
Plays, Movies, and TV Shows
I Know I've Been Changed (1992- 98)
I Can Do Bad All By Myself The Play (1999- 01)
Diary of a Mad Black Woman The Play (2001- 02)
Madea's Family Reunion The Play (2002- 03)
Madea's Class Reunion (2003- 04)
Why Did I Get Married? The Play (2004- 05)
Madea's Christmas (Special)
Meet The Browns The Play (2004- 05)
Diary of a Mad Black Woman The Movie (2005)
Madea Goes To Jail The Play (2005- 06)
Madea's Family Reunion The Movie (2006)
Tyler Perry's House of Payne (2006-
Daddy's Little Girls (2007)
What's Done in the Dark (2007- 08)
Why Did I Get Married? The Movie (2007)
Meet The Browns The Movie (2008)
The Marriage Counselor The Play (2008- 09)
The Family That Preys (2008)
Madea Goes to Jail The Movie (2009)
I Can Do Bad All By Myself The Movie (2009)
Tyler Perry's Meet The Browns The TV Show (2009- 11)
Laugh to Keep From Crying (2010)
Why Did I Get Married Too? (2010)
Madea's Big Happy Family The Play (2010)
Madea's Big Happy Family The Movie (2011)
A Madea Chrismas The Play (2011)
Aunt Bam's Place (2011)
I Don't Want To Do Wrong! (2011)
The Haves And Have Nots (2011- 12)
For Better or Worse (2011-
Madea Gets a Job (2012)
Good Deeds (2012)
Madea's Witness Protection Program (2012)
The Marriage Counselor The Movie (2013)
A Madea Christmas The Movie (2013)
Single Mom's Club (2014)
Other Sites
http://blackdynamite.wikia.com/